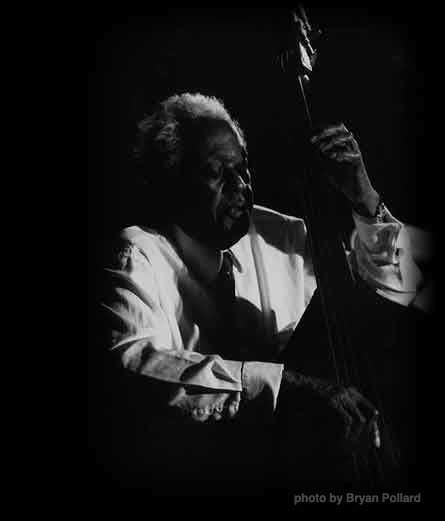 He was known as the "Master of the Walking Bass" and rightfully so. His resume reads like a "Who's-Who" of American Jazz. His work can be heard on over 600 recordings made between 1952 and until his untimely passing in August of 1999.
Leroy was born on July 13th, 1928 in Indianapolis, Indiana. His early days playing with Wes and Monk Mongomery provided a solid foundation for the young musician.
Let's read about it in his own words:
"There was a club where the guys used to come and I played in the rhythm section, and there was a big ballroom there called Herkensen's Sunset Ballroom and all the bands came. That's when I started being introduced to music. Duke Ellington and Count Basie would come- it was like a one night stop off. You know they had dancing-of course jazz has always been dancing music-but that's when I started seeing all the big bands: Duke Ellington, Count Basie, Tiny Bradshaw, Benny Carter, Jay McShann. That's when I started to be with people like Dexter Gordon, Bird, Howard McGhee, Fats Navarro-these guys would be in different bands. Sometimes they would leave that band and come through with another band. When I was young I couldn't get into a club and I used to stand outside to hear them. So that was a big influence on me."
Leroy later traveled to Chicago where he became the house bassist at the famous jazz venue known as the "Bee Hive". Here is the story as he related it in an interview with JerryJazzMusician.com:
"When I moved to Chicago in the 50's, things were tough-there were ten good bass players ahead of me and they weren't about to give me a shot. Ronnell Bright (a pianist who later played with Nancy Wilson and Sarah Vaughan) and I used go to a certain side of town and we walked into these bars that didn't have music. We said, ey-do you mind if we play?" They'd say, I'm not going to pay you. That's okay, we just want to play. Maybe we can create something. So the guy said go for it. We played for free and we created things. Oh, it was happening in Chicago! I moved there in 1952. I was making my music push. I was on my way to New York so I figured I would go to Chicago and break in, and little did I know that Chicago was just as powerful as New York but at that time I didn't realize it, I thought I would move to Chicago and break myself in and then I would be ready for New York. Wrong! The minute I hit Chicago it was all happening. That's when I first met Ben Webster and Bird (Charlie Parker) and Miles and you can go on down the line. I was in the house rhythm section for a while with pianist Junior Mance. Israel Crosby, who later was the bass player with Ahmad Jamal, had the regular job so he put me out there when he went out with Benny Goodman."
In the mid 50's Leroy moved to Los Angeles at the behest of legendary pianist Art Tatum:
"There's one man I would like to thank today for making my music career and giving me inspiration: that was Art Tatum. He gave me the inspiration to be where I'm at today. He asked me if I wanted to join his trio, I knew I must have been doing something right. I had to move to California first. A lot of musicians were scared to play with him. But I didn't know much about music, and I didn't know what to be scared of. Then when I played with him, I moved around the corner from him, I used to knock on his door everyday! I didn't know if he got bugged or not, but I said: Mr. Tatum, if I got to play with you, I want to at least know what you're doing. He really admired me for that, and that man helped me a lot in my music career. I thank him today for that and I always will thank him. I was very lucky. I started to learn to read music, I got a teacher, and I started to learn how to read. A couple of bass players, like Red Callender and Joe Comfort, helped me very much in my reading and they helped me get into the studios. I was very active in different kinds of music. I didn't raise my family and achieve success always playing bebop. To survive you had to do other things, because the jazz scale in LA was so low that you couldn't raise a family, you had to do other things. Now you can raise yourself but you couldn't raise your family. It was impossible, making $15, $20 a night."
The 12 years I spent working with Leroy were some of the most memorable times of my life. As he said about his time with Art Tatum, I will likewise always think of Leroy in the same light. He instilled in me a professional sense of responsibility toward the audience as well as for the music itself. He taught me the importance of keeping the music alive by educating and conveying a sense of swing to new generations of listeners. Check out Leroys' take on the importance of the bass and playing for young audiences:
"All musicians love a good strong bass player. We love a good drummer and we love a good piano player, but they really rely on a strong bass player. It's always been my experience anyway. I guess that's one of the reasons my career has been so successful, that I was able to be strong and to be creative, and to make the musician out front play. Like Trane used to say to me when I played with him a couple times, "You would beat a person right into the ground with that time you got, Leroy. Right into the ground!" Well I was raised that way. If you were raised with Art Tatum and Kenny Drew and Hampton Hawes-all these time people, you can't escape it. Of course, you're not going to be up there if you're not a strong bass player...that's one thing about it...they're all looking at the bass player. You could have a weak drummer or a weak piano player, but you cannot have a weak bass player. You won't last. Today in the clubs that I work in a lot around town, I'm the oldest one in the club. These young kids really listen! I'm sure you've been up in Atwater's where I play with Jof and Mel, and it's just mostly the younger generation listening. They come up and ask you questions. Who was this and how did it feel like playing with Miles or Dizzy or Bird or Teddy Edwards or Sonny Criss or Frank Rosolino? We've lost a lot of radio and we lost a lot of press coverage, so naturally when you lose that, a lot of people will come up and don't know much about jazz. But now they're beginning to come back to it."
Over the years we worked together with many great musicians and in many different venues. I feel very lucky to have spent so much quality time with him. He was a good friend and I miss him very much. The gifts he shared with me and with so many others, insure that the music continues to thrive. His beautiful soul will forever be a part of all those he touched. Anyone who had the pleasure of knowing this great man would have to agree!
Listen to Leroy speaking on Whad'ya Know? the well known NPR program.